Peekaboo Donut Cave
The most fun & versatile cat cave you can buy for your pets
😻 Offers a cozy hideout and comfy bed on top
🎈 Provides a fun energy outlet for cats
✨ Thoughtful Multi-Cat Design
💪 Durable and Scratch-Resistant
Learn More About The Peekaboo Here
Whether they like to curl up on top or nestle inside, our specially designed donut cave can act as a comfy bed or give them somewhere to hide and feel more secure than ever before.
High-quality claw-resistant felted material and the industrial-grade zipper will ensure a durable structure for even the most ferocious kitties to play fight and have fun in- or outside.
Our customers love the unique multi-cat design and having the ability to save space in the house by giving their cats a place for both playing and sleeping.
Why choose Peekaboo™ Donut Cave? Our caves have a stronger structure, more interior space, and a premium zipper for easy storage and cleaning.
Your Cat Deserves The Best
Comfort and fun are two main features of the cave. The high-quality felt material provides insulated warmth and delivers great sound absorption to dampen noise, which helps your cat feel safe and rest easy, especially for easily startled pets.
The spacious play tunnel also creates a nice track for your cats to lose their mind chasing toys during the "zoomies" or playing hide and seek with each others.
Extra interior space and scratch-resistant material with a high-class zipper trim are features that have been overlooked by our competitors. This is how we differentiate ourselves from the rest, providing a premium product for your cat that you will be envious of.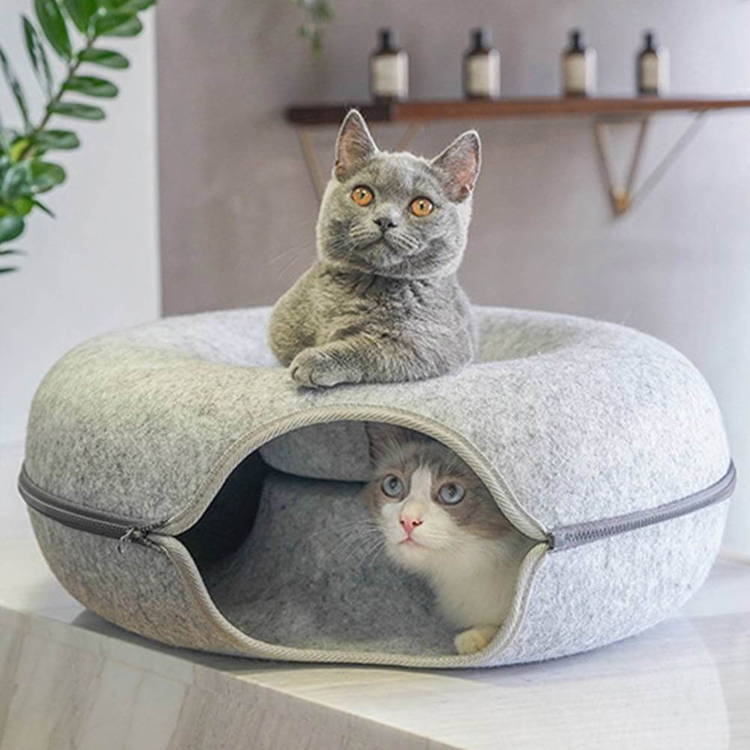 Why Peekaboo™ Donut Cave
There are hundreds of cat cave, tunnel, and bed options available in the USA. After months of testing and refining, we are confident we have made the most functional, durable and useful design on the market.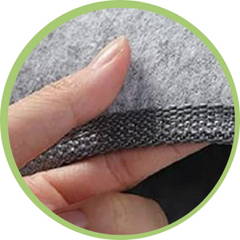 Claw Resistant Felt
Sturdy & claw resistant felt, stitched with nylon thread that can withstand energetic play sessions with even the most ornery of feline companions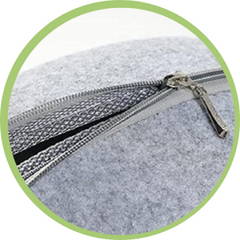 High-quality Zipper
Super easy to set up with a high-quality zipper. Just unzip it to open it up for easy cleaning or storage. It's that easy!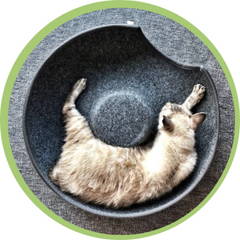 Spacious Tunnel
The inside is large enough for two adult cats to play, hide or sleep comfortably in.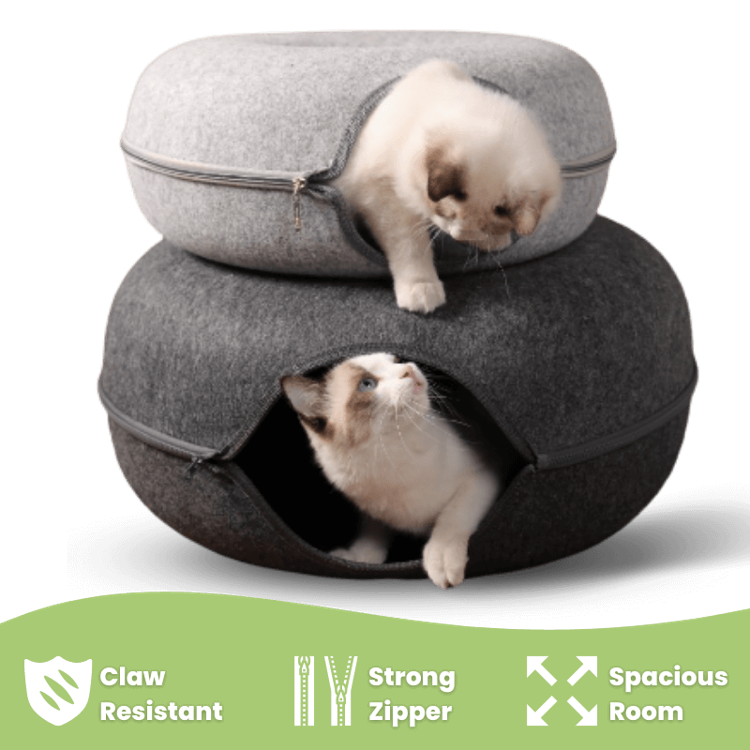 Benefits of the Peekaboo™ Donut Cave
Improve Sleep
Cats love to nap. It's their natural desire to sleep 14-18 hours a day. The Peekaboo™ Donut Cave's unique shape and its premium felted materials offer the versatility, as never before, for your kitty to either curl up on top or lay down inside for security and a cozy feeling.
Fun 'Peek-a-boo' Toy
Other than sleep, cats require a sufficient amount of mental stimulation and exercise. With our cat cave, your kitty will have a fun peek-a-boo toy where they can play with you or other felines, which will actively engage their hunter ways and keep them occupied while you're busy.
No Cat Left Behind!
Unlike other cat caves or beds which can only serve one cat at most, the Peekaboo™ Donut Cave can be a 'purrfect' cat bed for multiple felines all at once. For the first time, one to two cats can hide inside a cave for cozy feeling and private 'meow-time' while the others enjoy resting up top like some regal throne.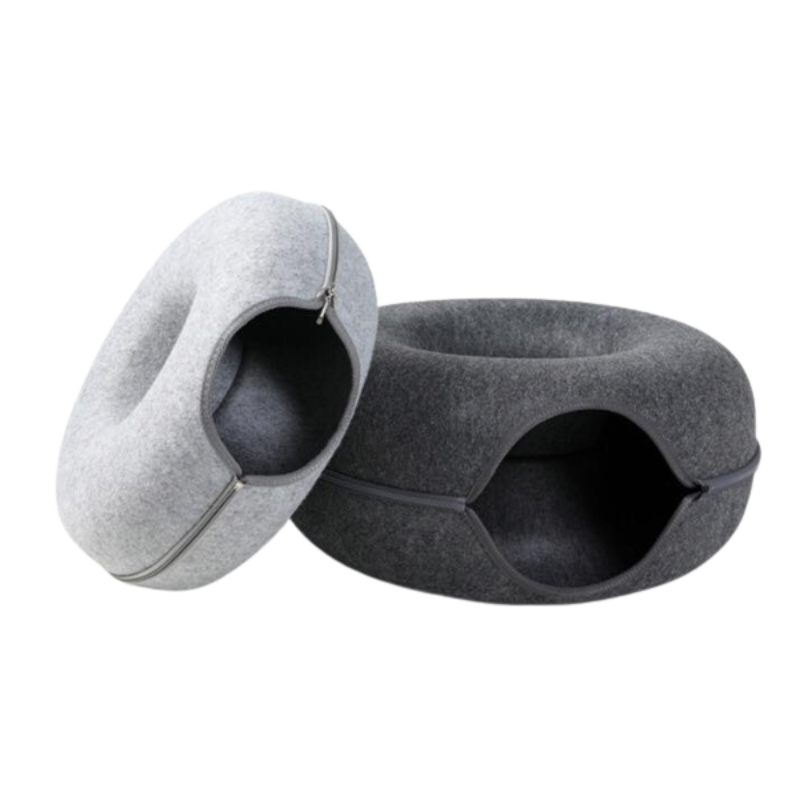 Over 3,000 5-Star Reviews for our Peekaboo™ Donut Cave!
Check our top fans out below.
Frequently Asked Question
What materials are the Peekaboo™ Donut Cave made of?
It's made from thick felt material to provide insulating warmth and delivers great sound absorption to dampen noise for easily startled pets. The compressed, pliable fabric is hard-molded into a donut-shaped, super cozy dwelling for cats to huddle under and snuggle in for a quiet, restful sleep or play fight with their feline friends.
Can you wash the cat cave?
This item can only be spot cleaned. Using a damp rag or sponge to clean it.
Built by and for cat lovers
What a thing it is to live with a cat.
Not to own a cat. No cat would ever agree to such an arrangement. 
But to live with. To care for and be cared about by the smartest, cutest, strangest (at times, let's be honest), most fantastic creature. 
We don't know what we did to deserve their love and attention, but we're going to give it back to them tenfold. 
First, to let them know how special they are to us. 
We protect them as family members and turn to them when we need comfort. 
And if they occasionally need to climb the walls and knock things off the counter at 3 am, well, then we accept them for who they are.
We will also give them everything they need and want to be comfortable and happy. 
This is why we make our cat caves.
We know you (and, more importantly, your cat) will love theirs.